#1 Rated Software for Personal Injury Law
POWERING THE BUSINESS OF LAW
CASEpeer is the only legal practice management software designed to drive better outcomes for your clients, and your law firm.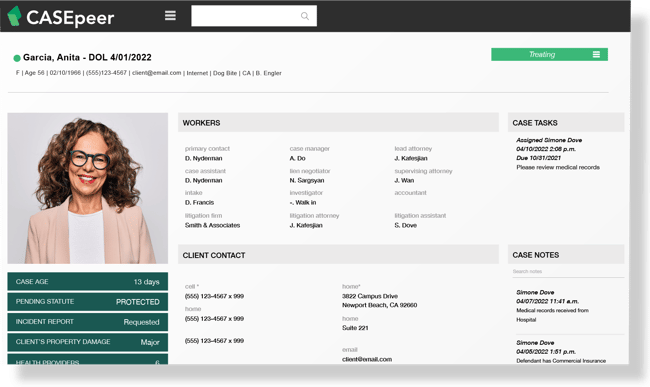 CASEpeer is the best product I could find after looking into almost every cloud-based case management software. The program allows for easy case management from beginning to end.
The other legal case management solutions just weren't visually attractive or intuitive. Out of the box, CASEpeer is like an iPhone. You just pick it up and figure it out without any instructions. With the other products, you had to create your own developments and add-ons to get what you needed.
It is difficult to compliment the software without complimenting the company. I have never experienced better customer service and client attentiveness.
Accelerate Your Personal Injury Law Firm with CASEpeer
Work confidently with CASEpeer's cloud-based case management solution tailored for personal injury law. We built the software, so you can focus on what matters most - your clients.
CLIENTS WE WORK WITH
Powering the business of law for leading firms nationwide
Cut out the busy work with built-in workflows & reports
Maximize your personal injury firm's efficiency with everything you need at your fingertips. Harness the power of automation to accomplish more than ever, from assigning responsibilities and automating case notes to generating reports and documents.