Cases to keep you organized.
Right from the start, your personal injury cases come with every field you and your staff need. Designed with a growing firm in mind, cases are packed with functionality. Review a snapshot of a client's file or jump to a specific tab for an in-depth look.
Virtual Case Files
Even your most complicated case can be made easy with CASEpeer. A summary home tab allows attorneys and staff to assess status at a glance. No more searching for key data like pending liability, property damage, treatment status, or medical bills. The other tabs intuitively organize the details of a case including insurance information, incident details, witnesses, medical treatment, and liens. At CASEpeer, we know what every personal injury case file needs.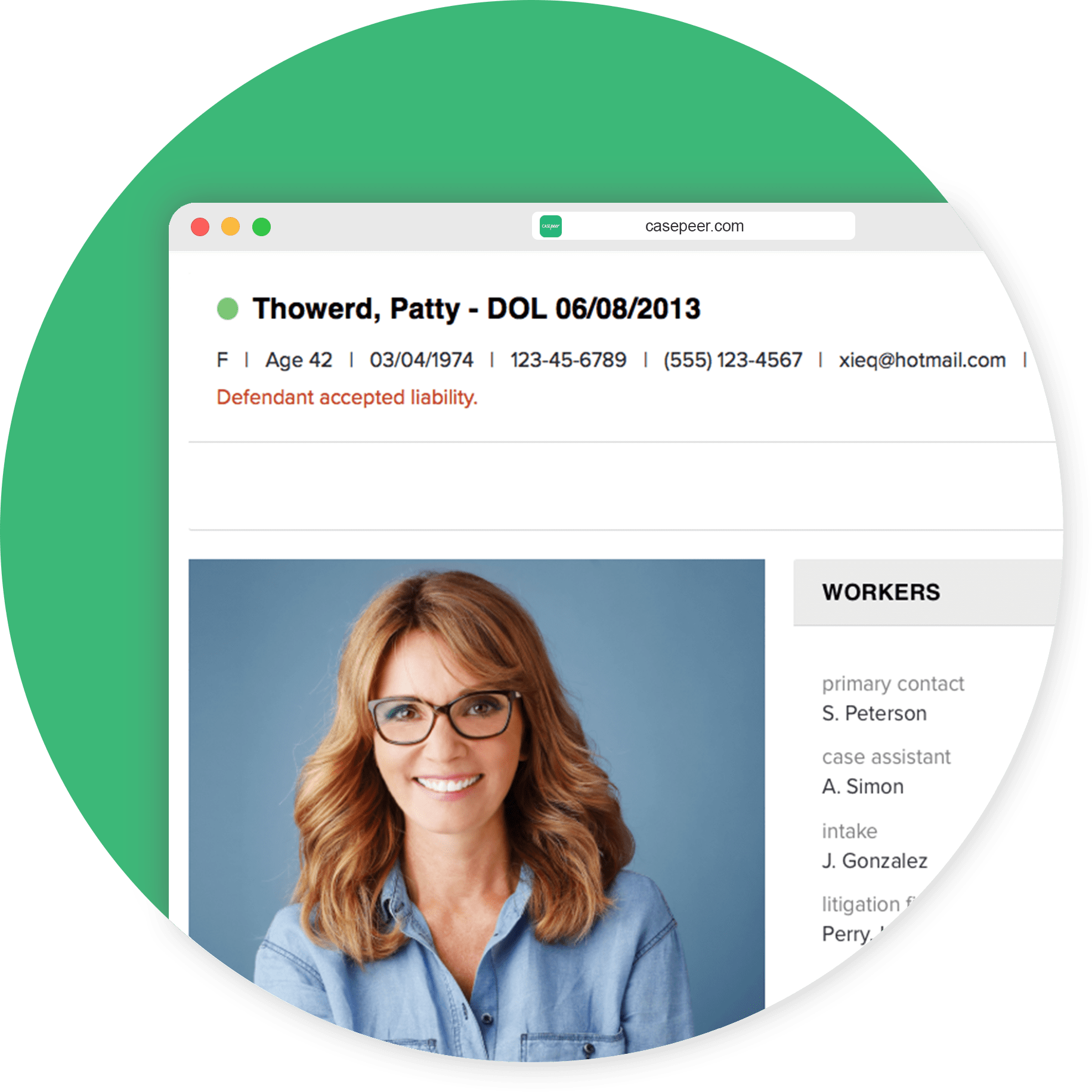 Dynamic Organization
CASEpeer organizes its virtual files like you organize your physical files. Tabs are neatly displayed for easy and fast access to the information you need. Our clean and intuitive design means you and your team can get to work quickly. If files need to be updated, new information can be added at any time. Important changes to a file are logged in the case notes and timeline, preserving your law firm's record.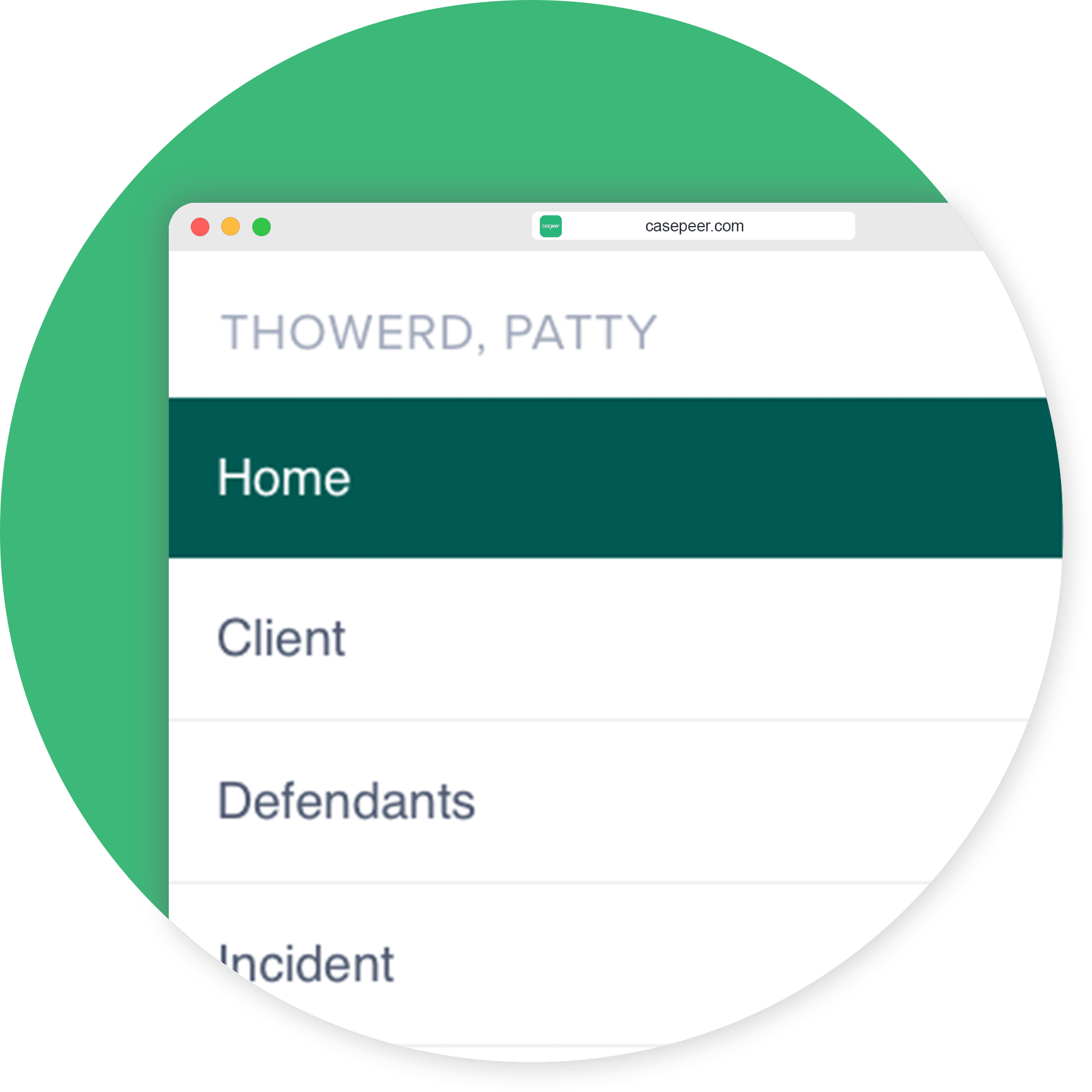 See why law firms nationwide are choosing CASEpeer.
Navigate Medical Treatment
CASEpeer allows users to effectively track injuries and monitor medical treatment over the course of the case. All of your medical providers are individual contacts, allowing their information to be shared across cases firm wide. This allows law firms to review their history with certain doctors during lien negotiations. Your staff can also find a treatment provider by city or specialty, quickly and easily.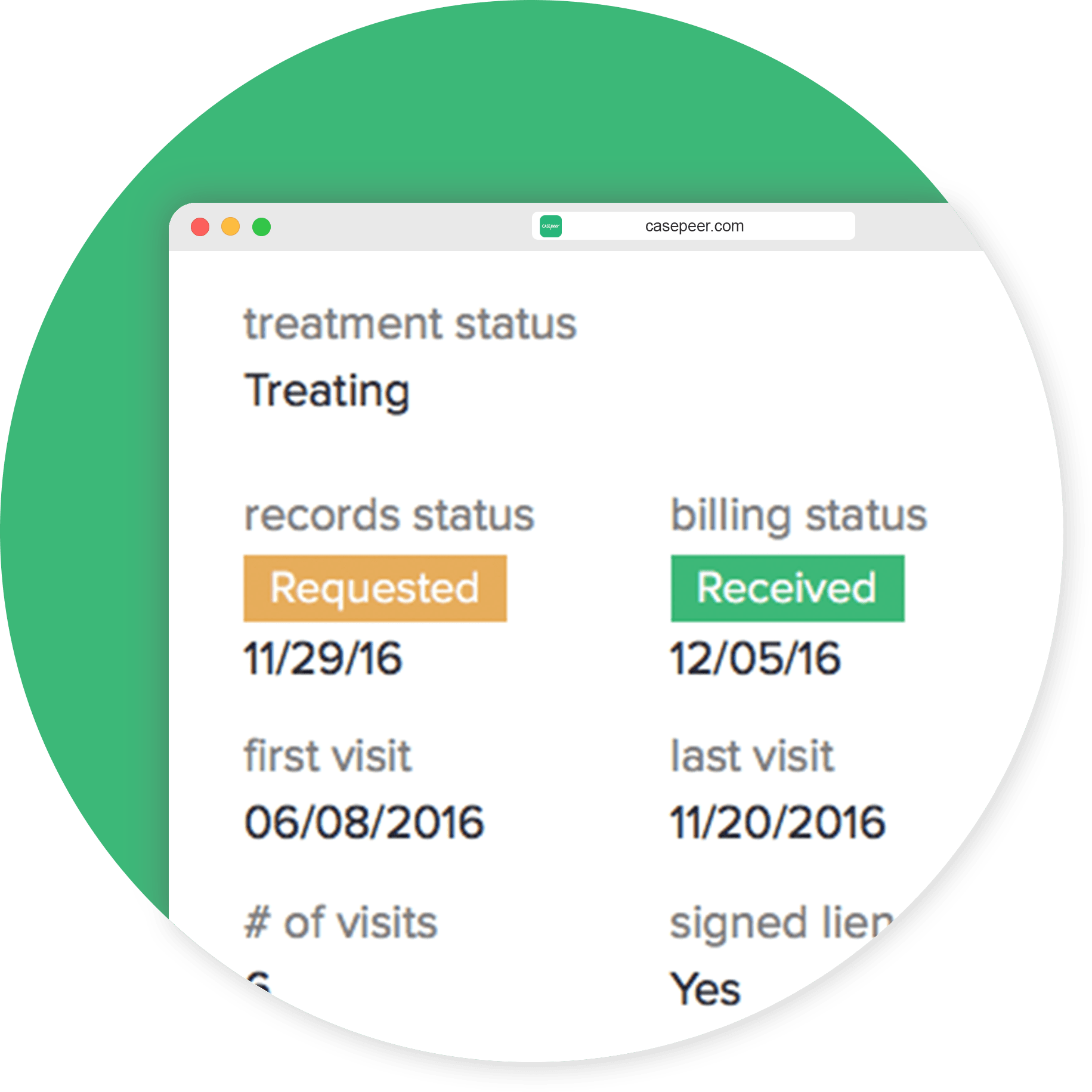 Comprehensive Lien Tracking
Every lien has its own timeline and requires the tracking of specific information. CASEpeer differentiates between the various liens on a personal injury case. Keep track of final and negotiated amounts throughout the claim and the final distribution of the client trust. Whether a hospital, previous attorney, advanced loan, or child support, never let another lien slip through the cracks.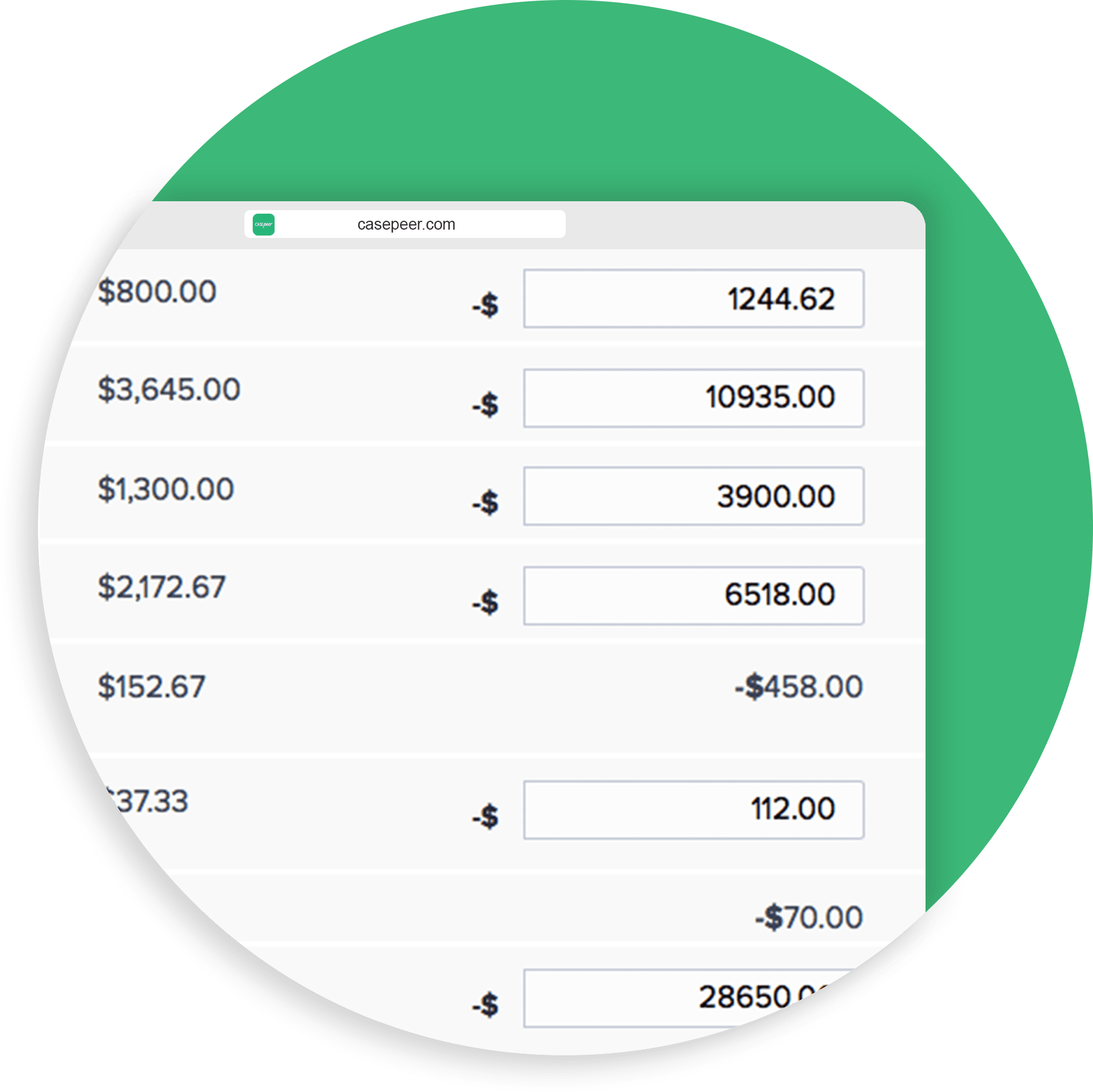 Powerful Case Notes
Effective note taking improves collaboration. In CASEpeer, see your notes on every page of a case. Notes can be categorized and directed to anyone at your firm, keeping everyone in the loop. Many key activities are logged automatically, saving your staff time and preserving a record of labor on a file. Notes can be instantly searched, filtered, or re-ordered to help you find what you're looking for.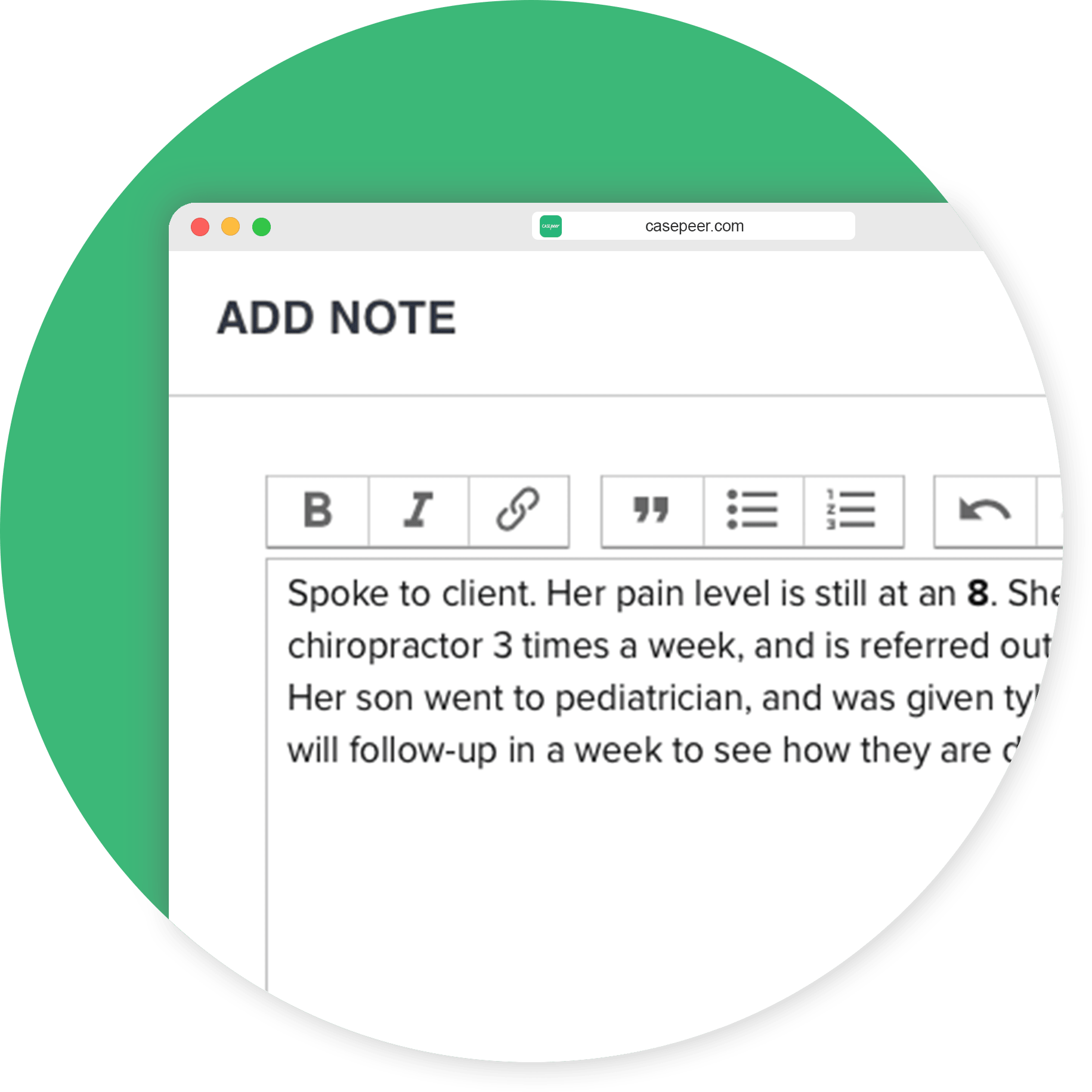 Supercharge your law firm today. We're here to help.