FINANCIAL AND OPERATIONAL REPORTING SOFTWARE
Supercharge your personal injury practice management
View your firm's most critical data, one tap away to apply data-backed insights to your personal injury firm's decision-making.
Drive your practice management with actionable reporting
CASEpeer helps you make better marketing and people decisions.
Turnkey reports
Gain a clear view of each case's status, financial standing, team performance and marketing ROI with 50+ reports.
Personal injury KPIs
Benchmark and analyze your firm's most critical metrics, from conversion rates to fee distribution and profitability.
Performance monitoring
Pinpoint high performers at your firm with insight into tasks completed, turnaround time, and more.
Optimize your marketing ROI
CASEpeer's reporting gives you transparency into referrals and lead sources so you can analyze your marketing spend and prioritize resources to grow your firm's clientele. With a case management solution built upon the experience of personal injury industry leaders, you'll learn from the best.
Track marketing referrals and lead sources
Keep track of conversion and retention rates
Leverage cost-tracking to never lose track of case costs again
Analyze and optimize your business's KPIs with reporting and analytics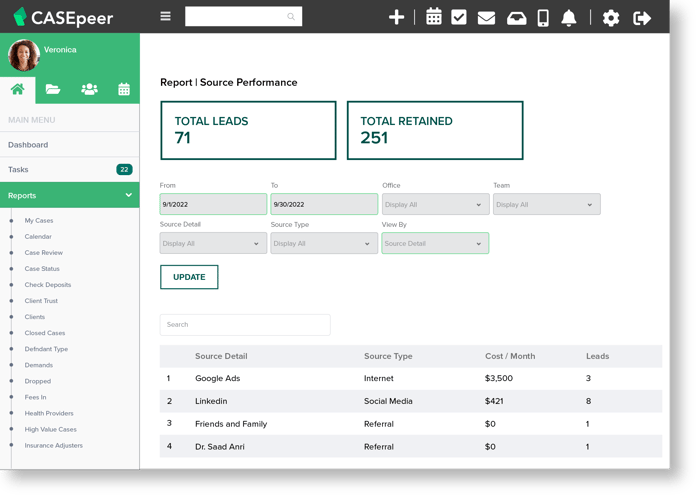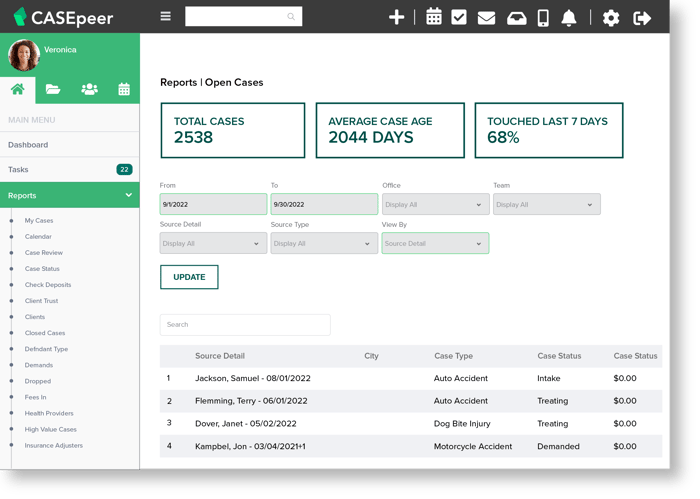 Leverage your firm's resources
Manage your firm more effectively with data-backed insights designed for personal injury. Quickly generate reports on leads, statutes, costs, productivity, and more to analyze and optimize your operations.
Gain access to full data visibility across your firm's legal and business operations
Locate essential information within seconds from your firm's cloud-based database
Monitor and act on critical client data with integrated case management
View and benchmark team productivity
Generate productivity reports across your firm's departments, offices, and teams to understand who is driving results, and who needs additional support or training to get the job done.
View which attorneys are bringing in the highest fees
Track employee activity when they are in office or working from home
Identify performance issues before they become problems
Set and monitor employee goals from intake to settlement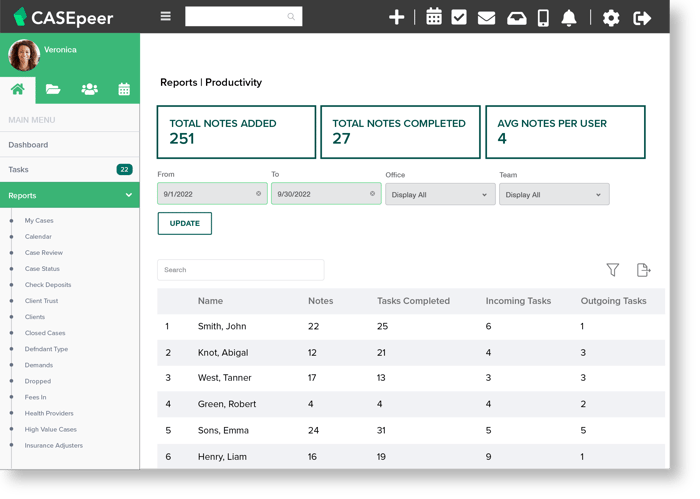 CUSTOMER TESTIMONIALS
Words from our clients
Find out why CASEpeer is the leading practice management solution for personal injury firms.
The other legal case management solutions just weren't visually attractive or intuitive. Out of the box, CASEpeer is like an iPhone. You just pick it up, and you can figure it out without any instructions. With a lot of the other products, you had to create your own developments and add-ons to get what you needed.
It is difficult to compliment the software without complimenting the company. I have never experienced better customer service and client attentiveness.
CASEpeer is the best product I could find after looking into almost every cloud-based case management software. The program allows for easy case management from beginning to end."
It's user-friendly and doesn't require too much inside knowledge; I like the simplicity and consistency of CASEpeer. I would definitely recommend it, and it's helped us grow.
PERSONAL INJURY PRACTICE MANAGEMENT
Supercharge your personal injury firm