PERSONAL INJURY CASE MANAGEMENT
Streamline your personal injury case management
Supercharge your firm with a case management software designed for the unique needs of personal injury law. From medical treatment tracking to negotiation tools, CASEpeer gives you everything needed to optimize your firm's case outcomes.
Rethink your personal injury case management
CASEpeer has everything you need to track a successful personal injury case, from medical treatment to litigation.
Cases
Clean and organized case files help your firm track all information, activity, and communication in one place. Monitor and evaluate a case at a glance from the summary screen.
Timelines
Analyze work productivity with case timelines. In CASEpeer, your team's activity and communication are tracked throughout the lifetime of a case.
Task management
Finally establish accountability at your firm with CASEpeer's task manager. Easily assign tasks and set reminders, due dates, and priority levels across every level of your firm.
Calendar management
Manage events in CASEpeer, and sync to your favorite calendar including Outlook, Google, or iCal. Never miss a deadline with our event calculator and litigation event plans.
Litigation
Track deadlines, discovery requests and responses, expert witnesses, and defense counsel communication across your cases with litigation tools designed for plaintiffs' law firms.
Cost tracking
Recover full out-of-pocket expenses on every case. The cost request center streamlines communication with accounting, integrating with Soluno and Quickbooks Online.
Medical treatment
Turnkey treatment tracking designed for personal injury law firms. Log injuries, doctor visits, payments, and track the status of records and bills requests.
Document management
Go paperless with CASEpeer's unlimited secure file storage and seamless integrations with Dropbox, OneDrive, and more. Increase efficiency with document automation.
Improve case outcomes for clients
Give your clients the outcomes they deserve with the best case management software for personal injury attorneys from CASEpeer. Ditch your spreadsheets for our integrated negotiation tracker and firm-wide settlement reports to maximize the value of every case.
Identify high value cases early
Drive negotiations across your caseload
Maximize reductions in lien negotiations
Analyze insurance company performance
Monitor client trust activity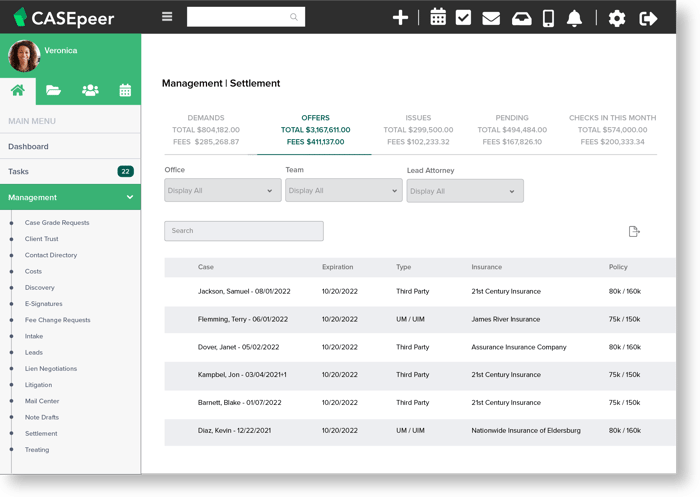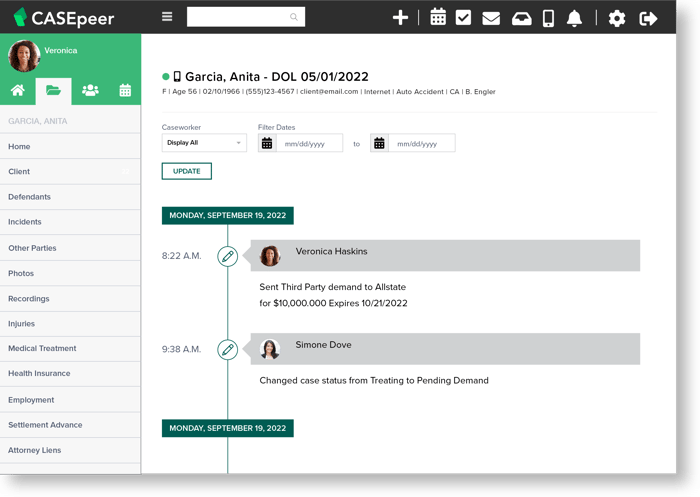 Track deadlines with integrated calendars and timelines
Sync CASEpeer to your calendar of choice. Whether you use Google, Outlook, Office 365, or Exchange – we have you covered. Meetings, deadlines, events, and tasks will automatically populate, so you can manage your day effectively.
Manage deadlines with automated calendaring and timelines
Rest easy with automated statute reminders and notifications
View individual tasks, meetings and deadlines across your caseload
Leverage quick links to the necessary file for case-related events
Assign tasks and due dates across your firm
Replace sticky notes and email threads with CASEpeer's digital task manager. With customizable due dates, priority levels, reminder notifications, and more, you can clearly see your responsibilities, or check on the tasks you've assigned to others.
Streamline accountability with task activity logged to every case.
Attach priorities & deadlines to every task.
Automatically notify your team of incoming tasks or when a task they assigned is completed.
Customize task workflows to trigger with due dates and assignee throughout the lifecycle of a case.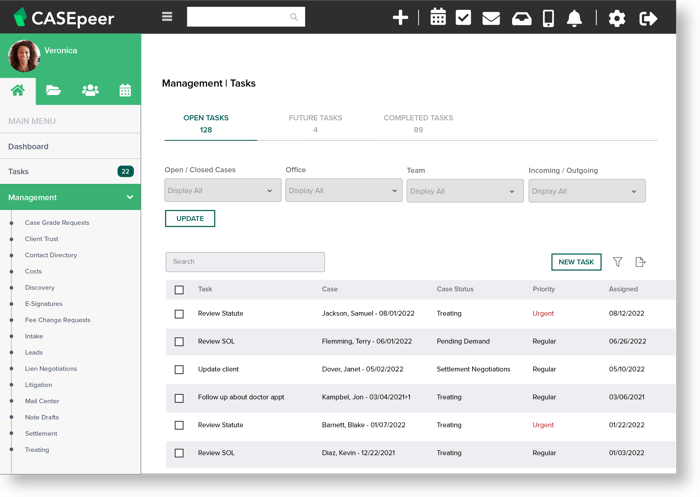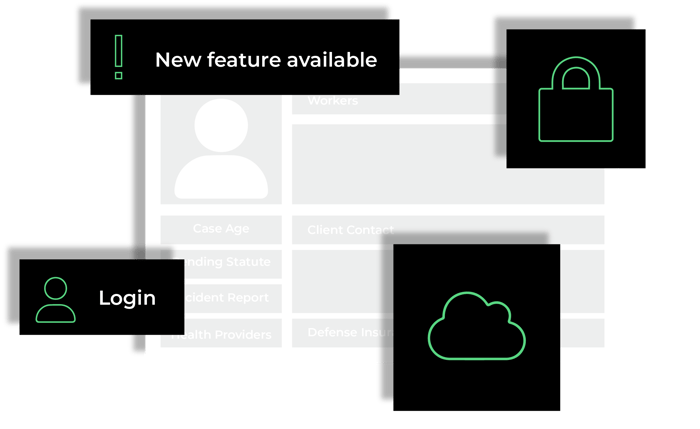 Secure management of case and client data
Clients trust you with their sensitive information, and you entrust it to us. CASEpeer takes this responsibility seriously, with robust security measures layered into our platform infrastructure. Have peace of mind that our backup procedures for data and documents keep your firm's case files safe.
Regular updates and feature releases future-proof your law firm operations.
Amazon Web Services ensures sensitive client information is never breached.
Rolling backups throughout the day ensure your data is safe and secure.
If one server goes down, another will take its place with Server Redundancy.
CUSTOMER TESTIMONIALS
Words from our clients
Find out why CASEpeer is the leading practice management solution for personal injury firms.
The other legal case management solutions just weren't visually attractive or intuitive. Out of the box, CASEpeer is like an iPhone. You just pick it up, and you can figure it out without any instructions. With a lot of the other products, you had to create your own developments and add-ons to get what you needed.
It is difficult to compliment the software without complimenting the company. I have never experienced better customer service and client attentiveness.
CASEpeer is the best product I could find after looking into almost every cloud-based case management software. The program allows for easy case management from beginning to end."
It's user-friendly and doesn't require too much inside knowledge; I like the simplicity and consistency of CASEpeer. I would definitely recommend it, and it's helped us grow.
PERSONAL INJURY PRACTICE MANAGEMENT
Supercharge your personal injury firm