PERSONAL INJURY PRACTICE MANAGEMENT
The backbone of your personal injury operations
Operate your firm effortlessly with a turnkey practice management solution designed for contingency fee law firms.
Personal injury practice management, made easy
Optimize your operations with integrated reporting, marketing, and accounting hubs paired with scalable automation.
Automation
Harness the power of automation to increase efficiency and eliminate busy work. CASEpeer automates document creation, statute notifications, task workflows, notes, and so much more.
Accounting
Track every penny with CASEpeer's native cost and client trust tracking. Integrations with Quickbooks Online and legal accounting software Soluno streamline financial operations.
Security
Your clients trust you, and you trust us. We take this responsibility seriously. Your data is securely stored on redundant servers hosted with Amazon Web Services, with rolling backups throughout the day.
Calendar management
Manage events, tasks, statutes, and deadlines all in one place. Easily sync to your favorite external calendar including Outlook, Google, and iCal.
Intake management
Streamline your intake process with our suite of intake management dashboard. Track performance of intake attorneys and marketing campaigns to drive better business decisions.
Support
Your firm is set up for success with industry-leading customer support, tutorials, and videos. Our knowledgeable team is available by phone, chat, and email, for free ongoing training and support.
Document management
Replace paper files with unlimited storage in the CASEpeer cloud. Sort mail with our mail center, flag documents for review, and manage file permissions. Or use our integrations with OneDrive and Dropbox.
Track leads and convert cases efficiently
Establish better intake habits and leave no lead overlooked with CASEpeer's user-friendly intake manager. You have the freedom to include as little (or as much) information as you'd like for each lead, collect necessary data with our intake forms and checklists, and evaluate high-value leads to allocate efficiently.
Collect critical details, like accident type, referral source and injury checklist
Accelerate intake by linking connected cases and sharing incident details
Prioritize follow-ups and evaluate high-value leads
Easily transition leads to retained cases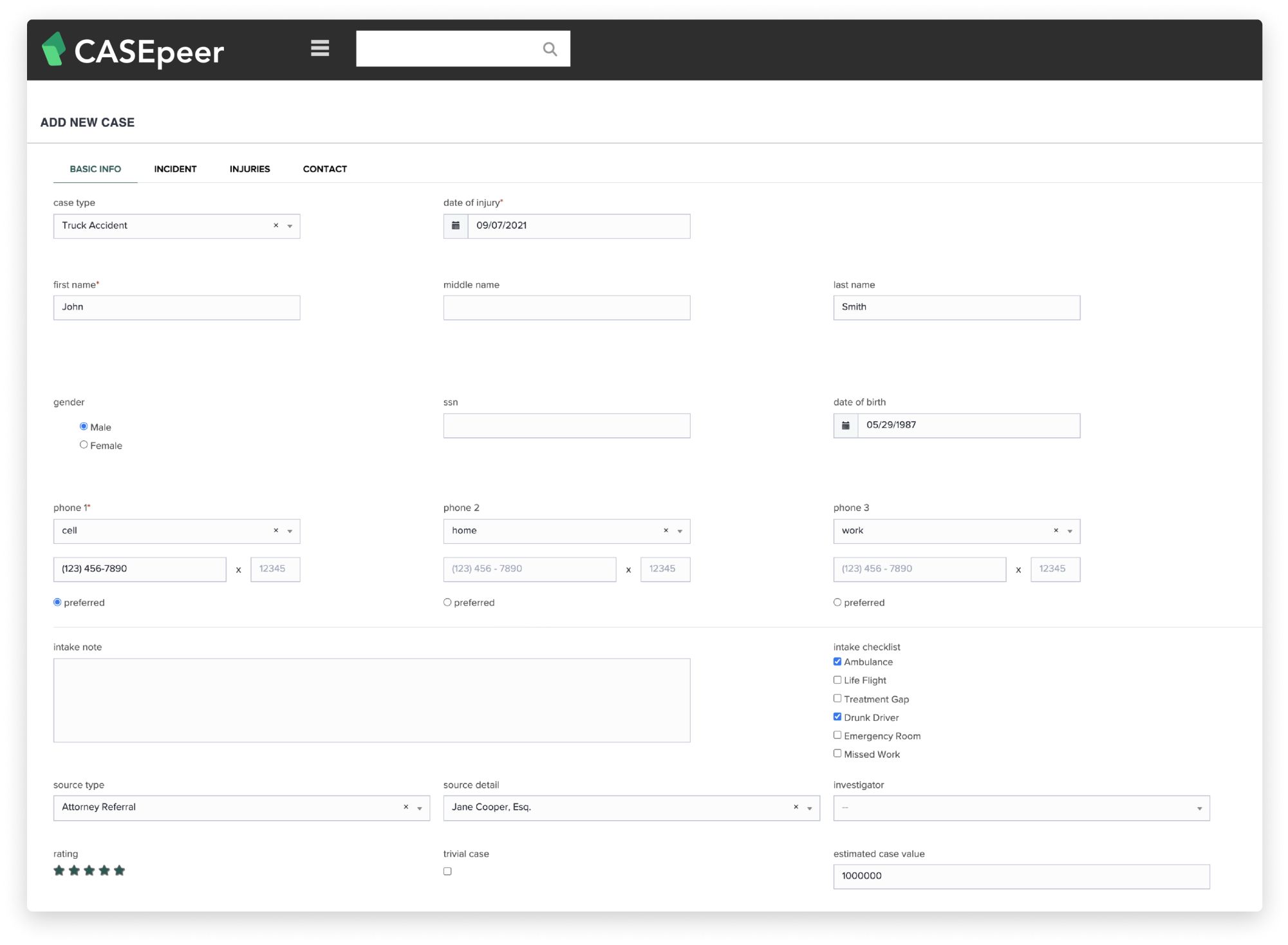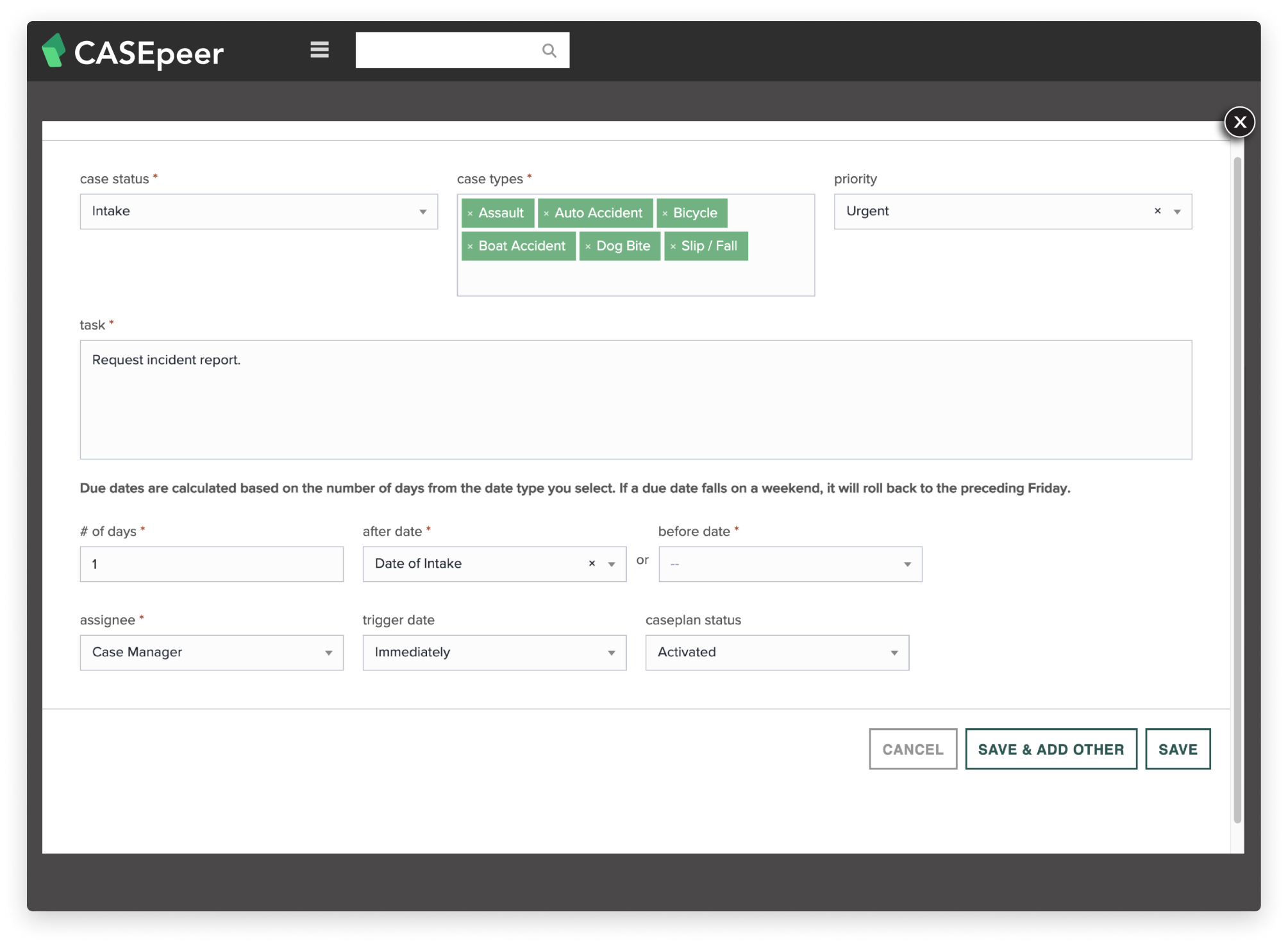 Cut out the busywork
Harness the power of automation to cut out additional admin work. Delegate and assign responsibilities, automate note-taking on cases, set alerts to notify employees of incoming tasks, and more to maximize the value of your time and improve transparency across your teams.
Automate court calendaring to sync calendar litigation deadlines
Automate tasks to trigger based on case status, age, or client information
Establish accountability with custom task workflows
Build document templates and generate letters on-the-fly
Track case costs and client trust activity
CASEpeer has built-in cost management, time logging, and client trust tracking. We also integrate with Soluno and Quickbooks Online to streamline your accounting operations.
Track every out-of-pocket case expense with ease
Streamline check requests and cost approvals for faster processing
Monitor cases with high out of pocket costs
View trust balances and log client trust disbursements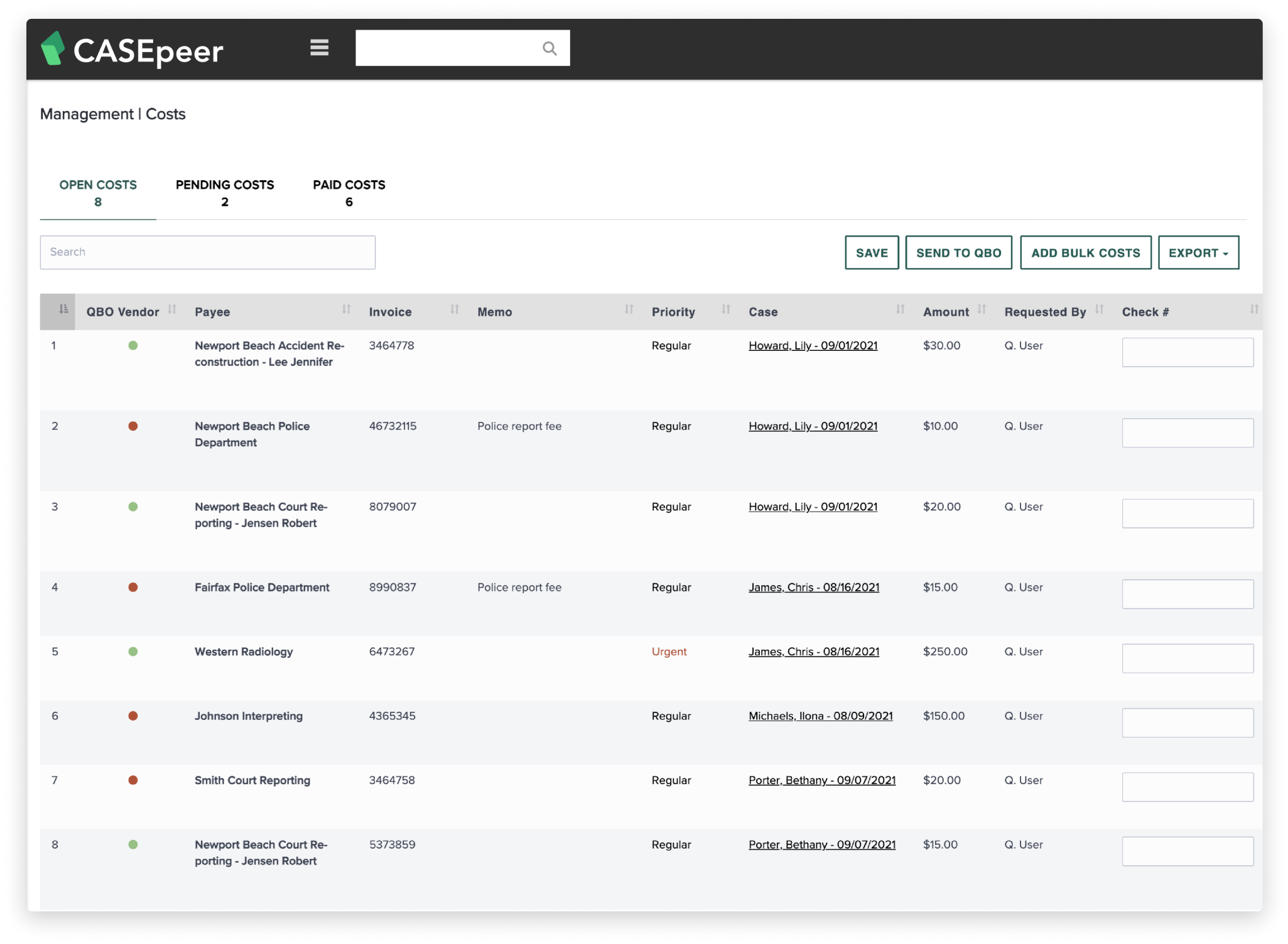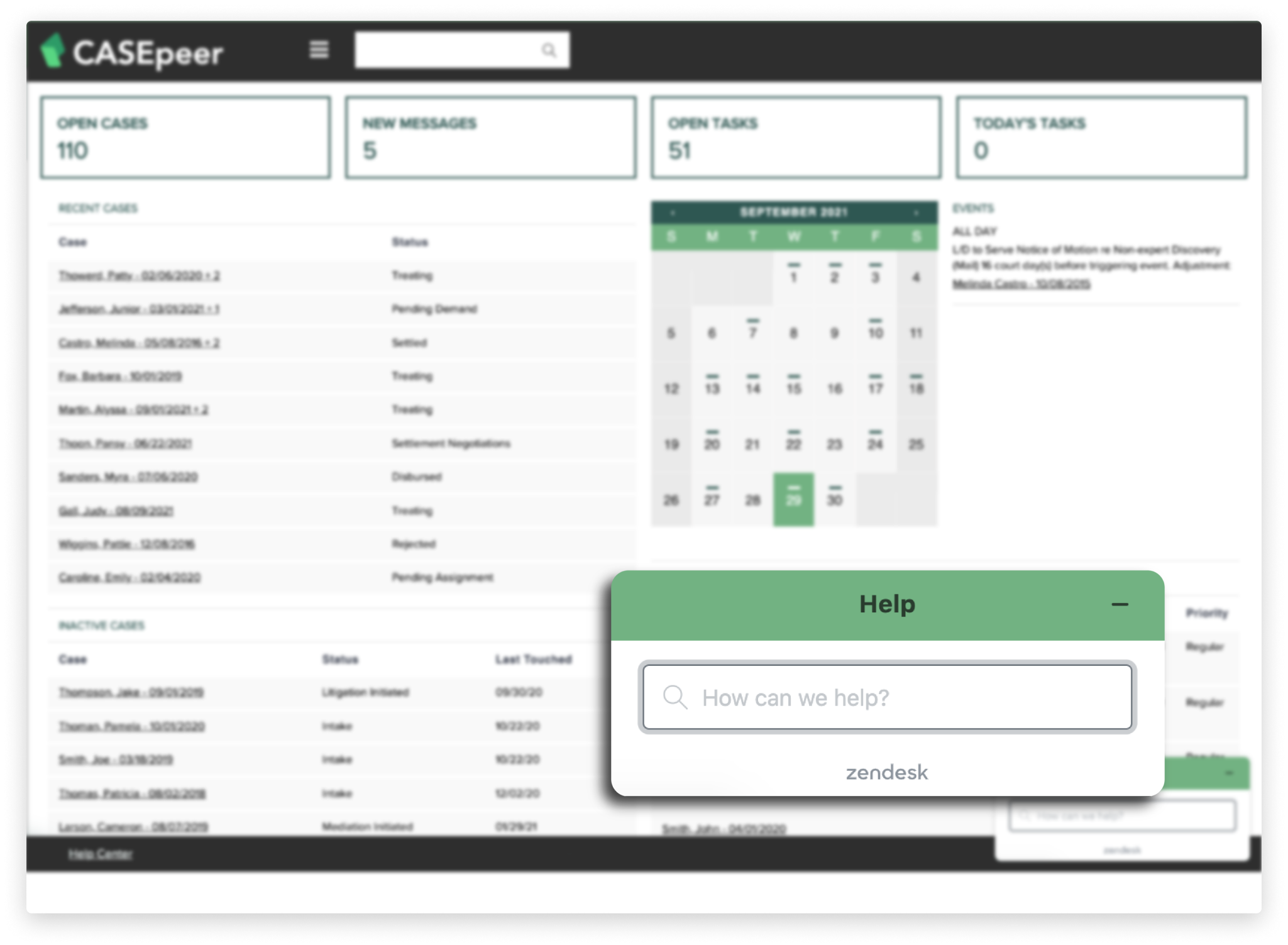 Access industry-leading support
Feel confident knowing your dedicated customer success team will resolve your issues quickly and effectively. With extensive online resources and support chat built into CASEpeer, we're only one message or phone call away.
Ensure adoption with unlimited free training and a dedicated customer support team
Apply built-in best practices from the nation's leading personal injury law firms
Ask questions within CASEper through built-in support chat
Extensive help articles, videos, and tutorials for on-demand training
CUSTOMER TESTIMONIALS
Words from our clients
Find out why CASEpeer is the leading practice management solution for personal injury firms.
"The other legal case management solutions just weren't visually attractive or intuitive. Out of the box, CASEpeer is like an iPhone. You just pick it up, and you can figure it out without any instructions. With a lot of the other products, you had to create your own developments and add-ons to get what you needed."
"It is difficult to compliment the software without complimenting the company. I have never experienced better customer service and client attentiveness."
CASEpeer is the best product I could find after looking into almost every cloud-based case management software. The program allows for easy case management from beginning to end."
PERSONAL INJURY PRACTICE MANAGEMENT
Supercharge your personal injury firm